Testimonials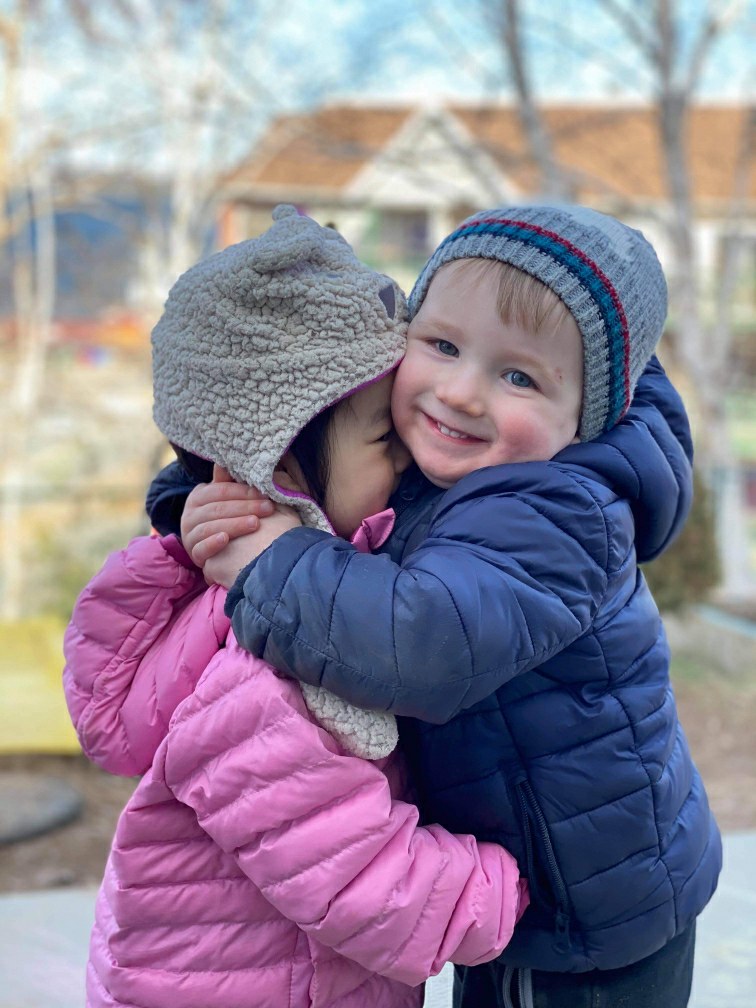 "I just wanted to share a few things with you that our son has been sharing with us over the past 2 days…
-yesterday, he told his mother that a lot of animals sleep a long time during winter (hibernation)
– this afternoon on the car ride home, he told me that there are birds that fly in a v-shape in the air
– a few minutes later, he told me that he's been learning about continents like North America, South America, and Asia… he then followed that up with "do you know where Isla lives?", and I answered that she lives in North America, to which he said "no"… so I replied "where does she live ?", and without much hesitation be replied "Europe".
** although I clarified that Europe was where Isla was from, but that she now lives in North America, I was very impressed at his recall!
I wanted to thank you for all of the effort and commitment that you give every day to all of the kids that you teach.  We are certainly thankful that our son gets to learn from you on a daily basis."
R. Roy,  Sackville, NS , Parent of two AMS students
"I've said this a hundred times, but my daughter's time at AMS has permanently affected the type of person she will grow up to be. She wants to be an explorer, and a scientist, and an artist. She loves to learn and show us what she's learned, and I know that whatever she becomes it will grown from the ideas that have been planted in her over the past few years. You have created something wonderful at AMS, and I wish you incredible ladies every success in the future."
K. Duffy, Dartmouth, NS, Parent of a former AMS student
"Having our daughter in the Atlantic Montessori with you has been the best thing that has happened to us as new immigrants. She was able to merge and adopt things nicely in the new environment, she seems very confident in her approach to life. Thank you so much for all your support and guidance. "
S & M. Kharat, Formerly of Halifax, Parents of a former AMS Student
"The following is a memory from when our daughter was 27 months old and in the AMS Toddler Class:
Every morning that we drop our daughter off, she can't get into the school fast enough. She was home last week recovering from a cold/flu combination, and last night we were talking about her going back to school. She squealed and laughed, her whole face lit up as she was going through the names of her teachers, assistants and friends whom she's formed a special bond with. Her face looked like it was going to explode with excitement when talking about her teachers and her nap time sidekick, the Casa Assistant. When she came to the French Assistant's name, she quickly said 'Bonjour!', as that is how the French Assistant greets her each morning.
This morning we dropped our daughter off after her being absent for a week. The Casa Assistant ran out as soon as she saw her and was beaming while telling our daughter how happy she was to see her and how much she had missed her. Then she called back into the cloakroom to the Toddler teacher that our daughter was back. The Toddler teacher came out with her mouth open in the biggest smile and her hands outstretched.  The French Assistant came over to talk and expressed how happy they all were to see her back, and that they miss her so much when she's gone. The energy that you feel when you walk in and witness these interactions can only be summed up in one word: love.
To witness our tiny little human growing and developing so organically, so independently, and so comfortably in an environment that celebrates who she is as an individual, is a gift and a blessing.
Dear Universe: thank you for guiding us in the direction that you did. We couldn't be more thankful to be on this adventure with the Atlantic Montessori School."
K & R. Wilson, Halifax, NS, Parents of an AMS Graduate
"Andrea, Analia & company,
I cannot thank you enough for allowing me the opportunity to observe in the Casa class. I was pleased to be able to see my child learn and interact in a classroom setting.
It was interesting to finally put a name to many of the methods of learning used to teach and reinforce lessons. I noticed there is nothing to soften the noise coming from the Toddler room, yet it did not seem to distract from any Casa learning. More than anything, I loved seeing first-hand how a Montessori classroom moves in the run of a morning. The interactions are amazingly fluid! Despite observing during individual work time, the environment has an obvious emphasis on community. Students helped students, teachers helped students, students helped teachers, students worked individually on known expectations without much redirection.
Atlantic Montessori School is an awe-inspiring learning environment. Thank you!"
H. Cumming, Halifax, NS, Parent of three AMS students 
"My daughter came to Atlantic Montessori School when it opened in January 2013,  with no prior Montessori experience, having previously been in a traditional daycare environment. I had heard many amazing things about Montessori methods but never seen them in action, however I was instantly sold after speaking to Andrea and seeing the classroom set-up (they were not open yet at this point).
The school opened with a small class size to help all the children adjust and it was the most seamless adjustment I have ever experienced with my daughter, who normally has a hard time with large changes. Within a few weeks I was astonished with how much she was enjoying the lessons she was having, how she was immediately making friends and how excited she was to tell me about the things she was learning. Having little background myself with Montessori terms and lessons it was sometimes a challenge to grasp what she was explaining but Andrea was always there to clarify the lessons and sometimes take me in the classroom at the end of the day to show me the object so I could understand what my daughter was trying to explain to me.
My daughter really blossomed in this environment, she was challenged in a calming, peaceful environment, with the freedom to explore and learn at her own pace and interest. Within a month she was writing her name, sewing buttons (oh, the many buttons she sewed!), learning French from the French Assistant and so many countless other things.
When I had the opportunity to observe I was once again impressed with how the children were so caring and considerate of others and how they put away their work and immediately went to something else, no whining "I'm bored," or "I have nothing to do," they were all engaged and so interested in what they were learning or using. I was already in love with all things Montessori but this sealed the deal for me.
I am eternally grateful to Andrea and Analia for opening such a wonderful school. All the staff are wonderful, their location with large windows and natural light was always welcoming, just like the staff and all the children there.
Thanks so much for your substantial input into my daughter's life and learning, it was without question the highlight of her preschool life and I cannot thank you enough. I have, and will continue to recommend this school and the Montessori experience to anyone who will listen, I wish you continued success."
R. Douglas, Halifax, NS, Parent of a former AMS student
---
"Atlantic Montessori has made a concrete difference in our child's lives. Having already attended a Montessori school previously, it was a comfort to know that the values and learning imparted to our daughter would continue. She blossomed under the care of Andrea, not only building on her skill sets but expanding them at rates we did not expect. Her understanding of math and language concepts far outreach what would have been available in a daycare setting, and all in a non-competitive, fun manner, at her own pace and according to her own interest. She adored Practical Life exercises, delighting us with her embroidery and sewing. The opportunity to speak French daily in the classroom was a definite benefit to us, being a bilingual family ourselves, and we loved hearing her sing her school songs on the way home.
The unique offer of a Montessori Toddler class was fantastic and our son excelled. The early introduction to the Practical Life, Sensorial and other Montessori materials was great in amongst all of the other expected toddler toys and crafting supplies. More importantly however, my son was enveloped in an environment that taught and emulated the values of respect, sharing and consideration that are so important to learn at a young age. His consideration of others and emerging ability to pause and try to think about what appropriate reactions should be are a direct result of the care and direction he has received and a mirror to what we do at home. Our son easily fit into the class, and it was not long before the excitement of going to school in the mornings meant he also did not want to leave in the afternoon!
The location is fantastic, with open and sunny rooms, a great play-yard with a sandbox that was definitely my son's favourite, and a huge gymnasium for games and physical activity on rainy or frigid Halifax days. The children raved about the food provided, a huge accomplishment from two and four-year olds, while I was thrilled knowing it was wholesome and nutritious.
I cannot recommend Atlantic Montessori enough, from their application of the philosophy to the genuine care and devotion they show to the children. We unfortunately have moved out of province, but Andrea and Analia have developed a gem and I wish them all the best in their continued success."
K. Casby, formerly of Halifax, NS, Parent of two former AMS students (Toddler and Casa)
---
"I will never forget the first time I saw a Casa classroom in progress- I was instantly sold. As I watched the children work peacefully, with beautiful and purposeful activities, help one another and talk through conflict, I knew my daughter would be so happy in a Montessori classroom.
The academic benefits of the Montessori method are impressive. Children often learn to read, write and become numerate at a young age. Beyond the academics, Montessori looks at the whole child, so classrooms are set up to allow children to move freely, choose their own work and interact with classmates throughout the day to meet their physical, cognitive and social needs. The classroom environment fed my daughter's desire to explore, create, and do things for herself, fostering her sense of confidence, independence, self-motivation, care and compassion for others.
My daughter spent her Casa years with Andrea Cavicchi. Andrea understood my daughter so well, embracing her fun-loving personality and helping to channel her enthusiasm into working through the Montessori materials. At the end of her time in Casa, my daughter felt like a leader in the classroom (often helping younger ones), a great little problem-solver, loved learning and was so excited to go to school each day!"
– J. Smith, Toronto, ON, Parent of a child in Andrea Cavicchi's former Casa class
---